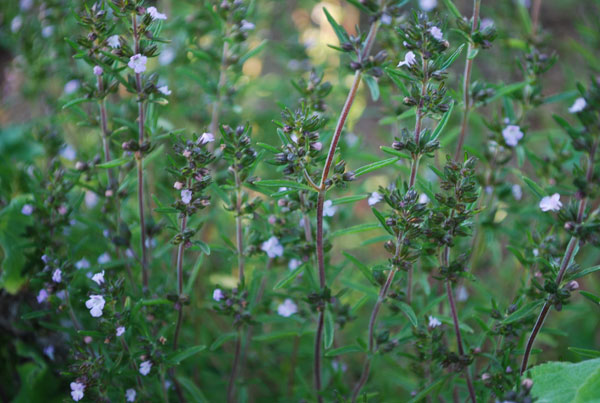 Summer Savoury, Satureja hortensis
In Atlantic Canada, I think we take for granted that summer savoury is the obvious choice when it comes to making poultry dishes, particularly stuffing for chicken and turkey. I didn't really realize until a couple of years ago when my sister bought me the
Pioneer Woman cookbook
and I took a look at some of her recipes, namely her chicken pot pie, and other recipes elsewhere on the internet, that most people use sage or thyme generally to cook these dishes. I noticed this particularly in recipes coming from the United States. And it made me a little sad. I thought, "does this mean they don't
know
about summer savoury?"
Summer savoury is an annual herb with a short growing season, which definitely suits our Maritime climate. It has tubular lilac-coloured flowers that bloom from July until September, and has elongated leaves. The plant itself grows to be about 18 inches high. It is a great companion plant, apparently, for onions and beans. I personally haven't grown it because it's produced locally and is widely available, although I have seen it for sale in local garden centres and this year I think I will plant some so I can try using it fresh more often.
What makes it so special, though, is its flavour. It's reported to be pungent, spicy, fragrant, sweet... what do I call it? Delicious. Summer savoury tastes like Thanksgiving and Christmas, like family gathered together for special occasions. It tastes like your mother's homemade chicken soup when you're not feeling well and need a little extra love, like warmth in the winter and comfort and home.
While most of us are familiar with its use in poultry dressings, I use it in pot roast, chicken soup, chicken salad, pork dishes, and vegan tomato/white bean/brown rice soup (an awesome recipe my sister introduced to me, which I may post on the blog some day soon). I use it in any recipe that calls for thyme or sage, because I enjoy it so much more.
When I lived in Italy, I fell absolutely head over heels for fresh basil, and I succumbed to the seduction of fresh rosemary as well. But a little packet of Montgomery's dried summer savoury cannot be pushed out of my heart by those bold and beautiful flavours of the Old World that easily. An herb with a lot of heart, that will always fill my senses with memories of home.
Try it. You might find a wonderful new culinary friend.